> Return to Press Releases and Articles
---
January 10, 2008
"Want to understand the power and potential of leveraging diversity?
Here's a clue…Read this book."
Tiane Mitchell Gordon
Senior VP, Diversity and Inclusion, America Online
__________

Are You Clueless to Profit?
Leadership Author Releases New Book for Leaders in a Diverse World
Like the "Bank for White People" and the "Restaurant for Men," many organizations lose customers and great employees in a multicultural world. Most don't even know it. These stories and others in a new book show the potential – if you use it - of "cultural radar" to business leaders.
Imagine these other scenarios/stories from global leadership consultant Tom Finn's new book.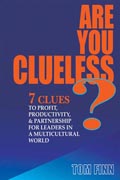 Are You Clueless?
7 Clues to Profit, Productivity, & Partnership
For Leaders in a Multicultural World
Customers who want your business and you don't know it
"Gaining 1000 Customers"
Hidden leaders you ignore
"Oh, My God, You're a Completely Different Person"
Excellent employees who turn off diverse customers
"Nice Doesn't Cut It"
Being clueless means leaders may not know what they don't know. Workplace examples from Are You Clueless? give leaders the "ahas" on how easily great opportunities are missed – or seized. The book's 7 Clues and common cultural scenarios provide everyday "how-tos" for leaders, such as:
• Cultural radar for new markets and for motivating diverse employees.
• Cultural patterns to diagnose and resolve conflicts
• Cultural skills vital to the global marketplace
Are You Clueless? (Kells Castle Press, $26.00) is available at www.areyouclueless.com or by phone at 1-888-97CLUES. Tom Finn is an international leadership consultant and speaker. He has consulted to leaders and organizations globally for 24 years. His consulting clients include Booz | Allen | Hamilton, General Dynamics Land Systems, Texaco, Verizon, and the Argentine Education Ministry. He coaches leaders on business success through diversity and on how to handle pressure in the workplace (www.lifelineconsulting.com).