Tom Finn is available to media to discuss how Are You Clueless?
can come alive for managers, diversity champions, and organizations to
take advantage of diversity and to avoid the costs of cluelessness.
Email Tom at: tom@tomfinnassociates.com
Are You Clueless?
7 Clues to Profit, Productivity, & Partnership
For Leaders in a Multicultural World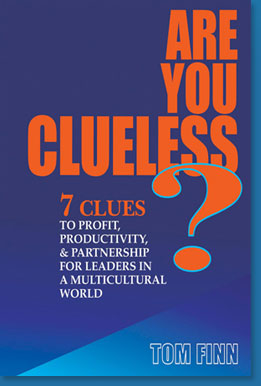 The clarion call of Are You Clueless? is the opportunity for organizations
that awaits in a diverse world. But many organizations and leaders are missing (we're clueless) the impact we are having on diverse people, and losing talent, business, and motivation and commitment as a result. The book tells some of the bizarre experiences of customers and employees who are "different," and gives clues on how to lead more effectively in a diverse world.
Are You Clueless? is for individual leaders
– in business, government, non-profits –
who deal with increasingly diverse employees and customers every day.
$33.95
ISBN 978-0-9797245-0-3
5 x 7.5
315 pages
Publication Date
November 2007

Success in Business
Diversity in the Workplace
Corporate Culture